Anyone who has talked to me about music for at least five minutes has probably heard me mention the name of my favorite rock band: Rush.
If you don't know who Rush is, let me introduce you.
Once upon a lighted stage, approaching the unreal…*
There were three fantastic musicians who formed the band Rush in the early 1970s: Geddy Lee, Alex Lifeson, and Neil Peart.**
Here are some photos: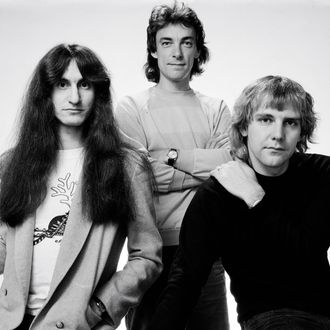 At this point, Rush is no longer a band. Their final tour was in 2015, and at this point the band has officially been put to rest—Neil Peart passed away in January 2020 (RIP Neil).
Geddy Lee was Rush's vocalist, bassist, and keyboardist. He has an extremely distinctive singing voice that is quite recognizable to anyone familiar with Rush.
Alex Lifeson was Rush's guitarist. He is, in my opinion, criminally underrated as a musician.
Neil Peart was Rush's drummer and lyricist. He has been considered one of the greatest drummers, if not the best, in the world, and his lyrics are widely renowned in the musical community and among Rush's fans.
I could continue on and discuss Rush's history, their musical style and technicality, their many albums, and the various hairstyles the three musicians sported over the years, but I'll stop here. Why am I telling you all this? Well, one of the assignments I discovered in the ds106 Assignment Bank was "Rock 'n Roll 'n Gif". Here's the prompt:
Animate your favorite music performer, it need not be rock and roll (bu of course "Rock and Roll will never die") – see if you can capture the essence of a single performer and their relationship to music or their instrument.
Of course, as soon as I saw this, I knew I couldn't pass up the opportunity to create a gif of Rush playing. It was difficult to find a clip with all three in the frame together for more than a second or two, but I was able to succeed.
Above: Rush playing "La Villa Strangiato" live in 1979
(clip taken from this video)
I think that this does capture some of the personality and features of the band. There's Neil, barely visible behind his gigantic drumset; there's Geddy in the front next to the mic with his bass; and there's Alex playing away, moving around. Alex and Geddy are clearly aware of each other, and though I couldn't make the gif long enough to show it, there are parts in the video where Alex and Geddy each move close to the drums.
Part of me wants to say that there's so much more to the band than this—Rush is one of the most down-to-earth bands I know, especially for the era of flashy rockstars. It's not possible to contain the full picture of the band within a gif. However, I believe the gif I created does show their passion for music, and they are clearly very engaged in the music they're playing.
Out of the three assignments I picked this week, I think this one tells the reader the most about me without me actually talking about myself. It's absolutely a part of my story; Rush is one of the most influential bands on my perception of what music has been, is, and can be. I remember when I first started listening to them, and I remember learning their song "Tom Sawyer" on drums (the first song of theirs I would attempt playing on my instrument). I've listened to all of their studio albums, watched their documentary Beyond the Lighted Stage, and mourned with the rest of the Rush fan community when Neil Peart died last year. That being said, this paragraph is the first I've discussed Rush in the context of my own life (besides stating that they're my favorite rock band).
I think you can learn a lot about a person by listening to their favorite songs, artists, and genres of music. Similarly, I believe that exploring another person's interests (whether that's music, a sport, a fandom, various forms of art, etc.) will provide a deeper understanding of and insight into that person's life.
What I'd hope someone understands about me from knowing that Rush is my favorite band is that I have a deep appreciation for dedicated, passionate, technical musicianship, meaningful and well-thought out lyrics, and people who value their relationships with each other and a simple, grounded lifestyle.
At the same time, one's interests can't tell you everything about a person. For example, since Rush is my favorite rock band and certain songs have clearly atheistic elements in the lyrics, one might assume that I'm an atheist. I'm a Christian and I value my faith; my appreciation of a non-Christian band's music does not have to reflect my beliefs. I don't agree with all of Rush's lyrics, and that's okay.
This is part of why we need to tell our stories ourselves; the things we are interested in can certainly convey a lot of information about us on their own, but only we can truly show how our passions strike us, the aspects we love and value about them, and the heart of why they matter to each of us individually. Those things we are enthusiastic about can bring us together as a group too, and sharing and expressing the meaning our passions bring to our lives is an important part of connecting and growing with one another. There are reasons why the things we love matter to us, and I think it's important to celebrate these things in healthy, enjoyable ways.
*a play on the lyrics of "Limelight" by Rush
**technically, Geddy Lee, Alex Lifeson, and John Rutsey (the original drummer) formed the band in 1968. However, Rutsey had to step down soon after Rush began, so Neil Peart took up the drumsticks for the band. The rest is history.